You Versus Mold
One of the issues that occurs when you have high humidity and moisture in your home is the potential for mold growth. Once mold growth begins, it can cause many serious health issues for the people exposed to it.
What is Mold?
On a scientific level, mold is a type of multicellular fungi that is spread by airborne spores. Mold and its spores need moisture and a source of food in order to grow. There are thousands of mold species that have been identified and they actually play an important role in the Earth's ecology. That doesn't mean you want mold spreading throughout your
home
however, which is why it's important to maintain the humidity levels in a range that is not susceptible to mold growth. While it may seem relatively harmless, mold can actually have a dramatic effect on your well being. It can lead to issues such as neurocognitive dysfunction, sinusitis, shortness of breath, and gastrointestinal problems.These conditions are even more likely to occur in people who have a compromised immune system, such as those suffering from cancer or AIDS. Generally, health problems related to mold can be divided in three categories: allergies, infection, and toxicity.
Close Up of Mold on A Tomato By Calimo (Own work)
---
Allergies

One of the most common ways that mold can affect people is through allergies.There are at least 70 allergens found in fungi that are known to cause reactions in people. Allergic symptoms typically occur after a person breathes in mold spores. These symptoms can range from asthma to rhinitis to wheezing. Allergic reactions are most often caused by prolonged exposure in a person's residence or workplace. Each person will have a unique reaction and often present different symptoms. Sometimes reactions will be nearly immediate upon entering a building or they may build up over time. The good news when it comes to mold-related symptoms of allergies, is that you can often alleviate them. Long term studies show that improving indoor air quality by reducing moisture and filtering the air, dramatically reduced rhino sinusitis and other symptoms.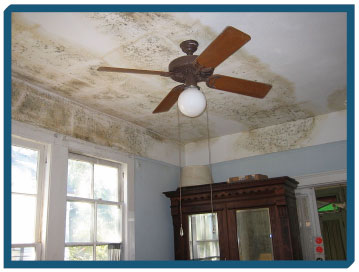 Mold Infecting a Living Room in New Orleans By Infrogmation of New Orleans (Photo by Infrogmation)
---
Infections
In addition to allergies, mold can also cause serious infection for people who are exposed. When a fungal infection occurs, deep tissues within the body are infected. Examples of infections include candida, histoplasma, and cryptococcus. Furthermore, a small segment of these infections can lead to fatalities. In fact, the incidence of an infectious mold called Aspergillus has been increasing in recent years. This is especially critical in immunocompromised patients who are infected, since the mortality rates from infection are quite high. Of course, not all fungal infections are so serious. Superficial fungal infections can also occur. In a superficial infection, it is not deep body tissue that is infected, but rather a person's skin or mucosal surfaces. An example of a superficial infection would be tinea pedis, a fungal infection of the feet. Superficial fungal infections could also be shown as dry skin, also known as tinea corporis.
---
Toxicity
Another way that mold can affect your health is through toxicity caused by mycotoxins. Mycotoxins are chemical toxins produced by mold spores. Mycotoxins infect people through ingestion, absorption, or inhalation. Ingestion is the most common way that mycotoxins are spread. An example of ingestion would be eating moldy foods. Absorption can occur if a person is in a moldy environment, and touches an affected area. Finally, inhalation happens where there are small mycotoxin particles in the air that a person breathes. One example of a mycotoxin would be aflatoxins, which are commonly found in nuts, rice, and cereals. Aflatoxins are extremely toxic to the liver and often lead to acute toxic liver injury. Other symptoms of aflatoxins range from rash to nausea to headache. Aflatoxins are thought to be immune suppressant and carcinogenic, in addition to having an affect on the brain and lungs. A further example of mycotoxins is ochratoxins. These toxins are found in cereal, bread, and coffee. Studies have linked ochratoxins to various diseases relating to kidney function, with some leading to acute renal failure. The initial symptoms are broad and include headache, loss of body weight, and pale skin. Ochratoxins are also believed to be immune suppressant and carcinogenic.
Moldy Foods Can Cause Toxicity Problems
Back to Top
---
The Effect of Mold On Specific Body Systems
Once a person is exposed, whether it's in the form of allergies, infections, or toxicity, mold attacks practically every body system. One major body system affected by mold, is the respiratory system. After being exposed to mold, a person may experience wheezing, coughing, or sneezing. These symptoms could develop into serious illnesses such as pneumonitis. In fact, one research study concluded that higher levels of fungi indoors led to dramatically lower lung function.
Aspergillus in the Lab By Ninjatacoshell (Own work)
Mold can also be detrimental to the hematological (blood) system. For example, various studies have linked mold in an increase in hemorrhage. Most disturbing is that many types of mold such as stachybotrus and aspergillus increase the likelihood of infant lung hemorhage.
Another body system affected by mold is the immune system. Mold exposure, not surprisingly, weakens the immune system. Research studies have found that when a person is affected by mold, especially myoctoxins, they have fewer "fighter cells". These natural killer cells which protect your body from infection and sickness, are often suppressed by mold.
Mold can be harmful to practically every body system, not just the ones listed above. Other notable areas include the reproductive system, renal system, and the central nervous system.
Back to Top
---
A Case Study on Mold
Background Information
The danger of mold to people is further illustrated by a research study completed in Finland from 1993 to 1994. The purpose of the study was to determine if exposure to moisture and mold increased health risks for adults. In the experiment, a random sample of 310 homes of different constructions and in various cities, were selected to participate. The health of 699 people was documented during the study to track the effects of mold. The participants submitted a questionnaire that covered baseline characteristics, environmental characteristics, health outcomes and more. There were 22 health outcomes tracked, including sore throat, eczema, eye irritation, nausea, and headache.
Back to Top
---
Phase One
Phase One of the study was based on the findings of a certified surveyor. The surveyor took note of moisture signs in the homes like peeling paint, discolored wood, and signs of leakage. He concluded that 52% of homes had moisture present (Exposed Group) while the remainder of the homes did not (Non Exposed Group). The results from Phase 1 showed that 19 of the 22 tracked health outcomes occurred more often in the Exposed Group.
Back to Top
---
Phase Two
Phase Two of the study was based on the findings by the occupants themselves. They self reported whether they saw signs of mold within their home. 189 of the occupants reported seeing signs of mold (84 of 399 homes). When the health outcomes were reported, it showed that 20 of the 22 health outcomes, including doctor diagnosed allergies, and atopic predisposition, were more likely to occur in homes with mold present.
Back to Top
---
Conclusions
The researchers conducting the study concluded that building related mold and moisture both have a significant impact on health. Exposure to mold and moisture led to higher rates of sore throat, nocturnal cough, and many other respiratory symptoms. Furthermore, exposure to mold also increased the likelihood of non respiratory symptoms, such as fatigue and concentration issues. While most people would agree that mold can be a nuisance, it's hard to imagine the magnitude until you take a closer look at all the ways mold can infect people. Through allergies, infection, and toxicity, mold can cause a variety of health problems ranging from minor to fatal. To help prevent these issues, it's important to maintain a consistent moisture level within your home.
Back to Top
Sources Used:
Curtis, Luke, Allan Lieberman, Martha Stark, William Rea, and Marsha Vetter. "Adverse Health Effects of Indoor Molds." Taylor & Francis Health Sciences. Journal of Nutritional & Environmental Medicine, Sept. 2004. Web. 5 May 2016.
Hardin, Bryan, Bruce Kelman, and Andrew Saxon. "Adverse Human Health Effects Associated with Molds in the Indoor Environment." PubMed. Journal of Occupational and Environmental Medicine, June 2003. Web. 4 May 2016.
Koskinen, O.M., T.M. Husman, and A.I. Nevalainen. "Relationship between Moisture or Mould Observations in Houses and the State of Health of Their Occupants." European Respiratory Journal. European Respiratory Journal, 4 Aug. 1999. Web. 5 May 2016.
Peracia, M., B. Radic, M. Pavlovic, and A. Lucic. "Toxic Effects of Mycotoxins in Humans." Bullet of the World Health Organization. World Health Organization, 1991. Web. 4 May 2016.